Autumn Music Event Flyer Template
Ideas for Autumnal Explosions Flyer
With autumn coming or going, we have some much of occasions or "autumnal explosions" going on everywhere. When it comes to create or think about an idea for you autumnal explosion flyer, some things automatically sink in;
An autumnal explosions flyer can have only the basic colors of autumn as its theme; red, orange, yellow, dull yellow, mustard, brown and all the colors which are known as "autumn colors."
The theme can be surrounded around with leaves and flowers since that is the actual essence of autumn leaves falling off the trees, in order to give the new ones a space to blossom.
Autumn Leaves are different. They are drawn and visualized differently than the normal, green leaves. Even the borders of the flyer can be surrounded by leaves, giving it a complete autumnal explosions reflection.
Illustrations are really in style for flyers these days and they look really attractive. Even abstract art is used in the themes and designs of flyers to make them appear more appealing to the person who has been invited; this automatically gathers a crowd to your occasion!
Flyer Templates
The emergence of the internet and what can it actually serve people with is astonishing. Many websites now offer a variety of flyers which can be easily ordered online. Moreover, you can also create your own Autumn Music Event Flyer with a wide range of backgrounds, themes, and designs available. Through this variety, you can have your own costumed autumnal explosions flyer in your hands too.
Preview and Details of Template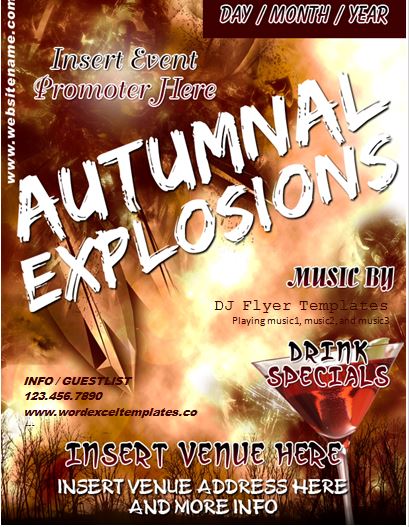 File:Word (.doc) 2007+ and iPad
Size 666 Kb   |   Download
File: OpenOffice (.odt) Writer [Writer]
Size 646 Kb   |   Download
License: ENERGY   (Personal Use Only)
(Not for resale and distribution) by Kate Elizabeth(CEO)