Maintenance of the vehicle is a very important task that every vehicle owner has to perform. It keeps the vehicle best for users to experience the best journey. Having the service of the vehicle on a regular basis prevents you from many mishaps. The service also keeps track of the engine and other parts of the car so that the timely replacement or repairing can be done.
The auto service receipt acts as an agreement between you and the service provider to keep a record of what has been agreed upon by both of you.
Key elements of auto repair receipt:
The key components of the receipt used by auto service centers are:
The details of the company:
The company details such as name, address, contact details are added to the receipt at the top. The logo of the company can also be added to the editable template.
Receipt number and date of issuance:
There is a unique number that is assigned to each receipt to make the record keeping process easier. The number can be chosen according to your own choice. The date on which the receipt is being issued should also is the main detail that is added.
Particulars of the customer:
The details of the customer are added just to keep track of customer who you have billed. Add name, address, phone number, email address and customer ID in the receipt.
Description of the service provided:
This section of the receipt is the most important part since it lets the customer know about the service and charges of each service.
Auto repair receipt template:
No matter you are running a large business or a small one, invoicing your customers is always very important. The template of auto repair receipt is one of the best tools to facilitate auto service provider in preparing an invoice for the customer. This template saves time and money of the user.
There is much complex invoicing software that is very hard to understand. Anyone who has to send in unlimited invoices to customers each month can use the ready-made auto repair invoice.
Preview and Details of Template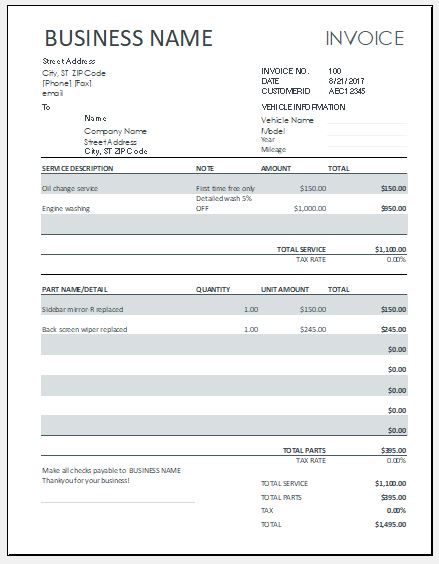 Auto Repair Receipt Template
File: Excel (.xls) 2003+ and iPad 
Size 33 Kb | Download
License: ENERGY [Personal Use Only]