Authorization Letter Template
Posted by Kate | On

6 June,2016

| In Letters
You cannot be present everywhere at all times. Sometimes you have to give someone else the authority to act on your behalf when you are not able to act by yourself. This is called authorizing someone and the letter that grants the authority is called an authorization letter.
Authorization letters are used in different spheres for different purposes, for examples; a person may be authorized by a parent to make medical decisions for his kid, or to manage legal affairs, to do regional bank transactions, to deal property matters, etc. Because authorization letters are important, formal and legal letters, they should be written with utmost care.
In granting an authorization there are three parties involved.
First party/individual is the person who is granting the authorization.
Second party/individual is the person to whom the letter is addressed to consider the person who has been given the authority.
Third party/individual is the person to whom the authority is given. He is also called proxy.
It should be noted that an authorization letter is always written addressing the second party/person; however, the letter is handed over to the third party/person. The letter should be in business letter format. It should clearly mention the authorities and restriction of authorities that are granted. A finalized letter should properly be signed by the first party and attested by a witness or notary public.
The original copy of the authorization letter is to be handed over to the proxy. A duplicate, however, should be kept by the primary person himself. Here is an example template of authorization letter that will help you understand the authorization letter format and style.
Preview and Details of Template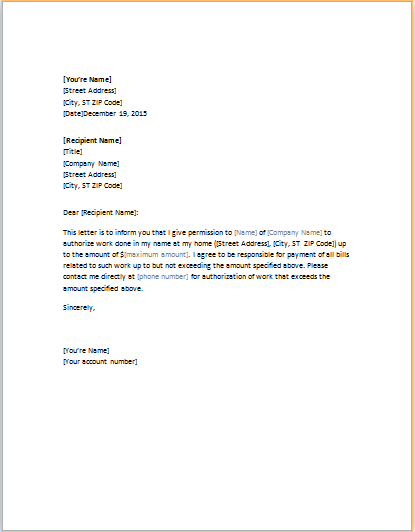 File: Word (.doc) 2007+ and iPad 
Size 25 Kb   | Download
File: OpenOffice (.odt) Writer [Writer]
Size 15 Kb   |  Download
License: ENERGY  (General Use)
(Distribution) by Kate Elizabeth(CEO)
About Author
Kate
Kate Elizabeth is a professional writer. Writing and producing useful contents that are helpful for the people in doing different tasks is her hobby.