What if someday you're treated unfairly, you are not granted your due rights or any decisions are made for you in the least favorite? What would be the possibilities in such a situation? Who will you call for help? What is the solution in such a situation? Appeal letters!
Appeal letters are request letters that are written to the relevant persons or authorities to take a review of the said decisions or matters. The appeal letter is a formal and a decent way to convince the reader to solve your problem. Because it is a formal letter, it should be written in a business letter format. Here are few other prerequisites that should be kept while writing an appeal letter;
An appeal letter should begin with a proper introduction. Unless opening of the letter is appealing enough, the reader will most probably not read the letter any further.
In the second part of the letter, the writer should explain the matter of concern with proper arguments. Here, one has to remain polite because of unethical languages, aggressive tone only results in rejection of the request.
In the third part, the writer should write about his desired outcome, take reader's attention to those matters that might have gone unnoticed and the mention of documents that he is attaching as a further proof.
In the last part of an appeal letter, the writer is expected to close the content in a respectful manner, asking the reader to take action by the mentioned date.
Since appeal letters are professional letters, they are taken on serious grounds only when they are professionally written. If you have been writing appeal letters the same way you write to your grandma, this was the reason that they were never answered. Appeal letter readers are not as kind hearted as grandma so they pick every single mistake.
Now that you know the cause of rejection, here's a solution to help your next appeal letter get an approval. The professionally made appeal letters that can help you improve your appeal letter formats as well as letter writing strategy.
Preview and Details of Template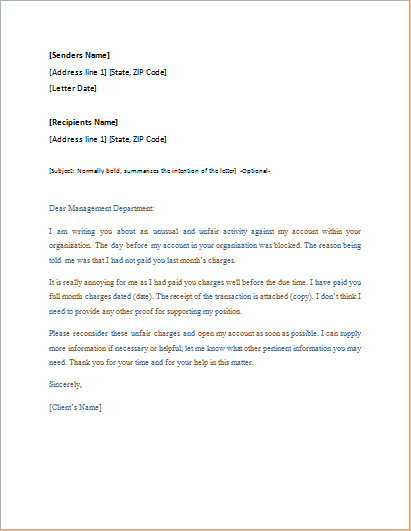 File: Word (.doc) 2007+ and iPad 
Size 28 Kb   | Download
File: OpenOffice (.odt) Writer [Writer]
Size 17 Kb   |  Download
License: ENERGY  (General Use)
(Distribution) by Kate Elizabeth(CEO)