Acoustic Freedom Music Event Flyer
Music Event Flyers
Music is regarded as the soul of the human body. It is entertainment while relaxation for others. Music in the world is created by using different types of musical instruments. Over the years, like all other walks of life, the technological changes have also affected the art of music. New improved and more technical versions of the musical instruments are now in place for the musicians making music all over the world.
Use of acoustic instruments is still known to create the best type of music. If you are a fan and want to promote any of such musical events or concerts, you can easily draft your own acoustic freedom flyer and use it as a promotional tool for the event. The designs are new and fresh and provide the user an easy way for making the Acoustic Freedom Flyer without any hassle or inconvenience.
The acoustic freedom flyer can be searched on the internet and according to your own needs and requirements, you can make modifications and changes in the original document. This type of acoustic freedom flyers can be distributed to shops, malls, and colleges to bring in more and more spectators for the musical event. Internet and online websites have made our lives much easier and convenient by the provision of templates that can be customized in a quick and cost-effective way.
Preview and Details of Template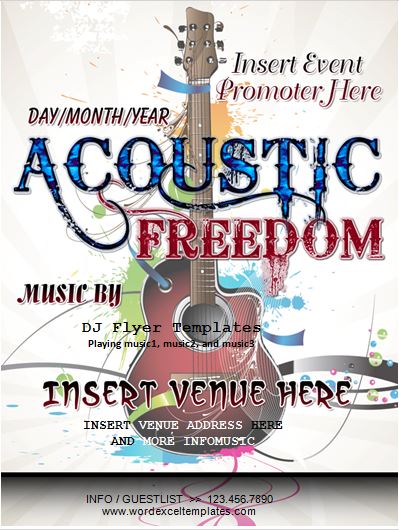 File:Word (.doc) 2007+ and iPad
Size 518 Kb   |   Download
File: OpenOffice (.odt) Writer [Writer]
Size 503 Kb   |  Download
License: ENERGY   (Personal Use Only)
(Not for resale and distribution) by Kate Elizabeth(CEO)