Academic Calendar Template 2015-2016
2015-16 Calendar Template
The Academic Calendar is basically an information source and scheduled document not only for students but for the relative faculty, staff, and departments. The components of calendar includes
registration dates
session start-end date
designated holidays
deadlines,
exam dates
Since many years Academic calendar at the higher education level has followed a steady and traditional format. Basically, regular types of calendars have been largely adapted. These comprise the early semester, quarter system, trimester, and other divisions. A calendar that divides the academic year into two terms was the prevailing calendar used by U.S. colleges and universities earlier. However, the early semester that splits the academic year into equivalent terms substituted the traditional semester. The calendar is helpful as
it provides a reasonable time period for learning, research assignments, and thesis
it endorses greater communication between faculty and students
it reduces the inclination towards course disintegration
It offers a comparison with other institutions' calendars and curriculum.
2015-16 School Calendar Template
Like every passing year, the academic calendar is also formatted for the year 2015-16.This will ease the relative users to plan their time according to the assigned tasks. Designing an academic calendar was difficult when digital set-up was not established. Nowadays formatting an academic calendar is at hand via free online templates. It is suitable for use by a teacher, student or other faculty groups. It is customizable and adjustable, for use by professors, lecturers, in school administration, students, freshmen, and much more. The individual term dates, fall, and spring assigned dates, with holidays every category is listed in the pre-formatted templates. What you have to do is just download the template that suits your institution and fill in the specific dates. Get it printed on practical application and distribution. Here you have a 2015-16 calendar template ready to use in an easy format.
Preview and Details of Template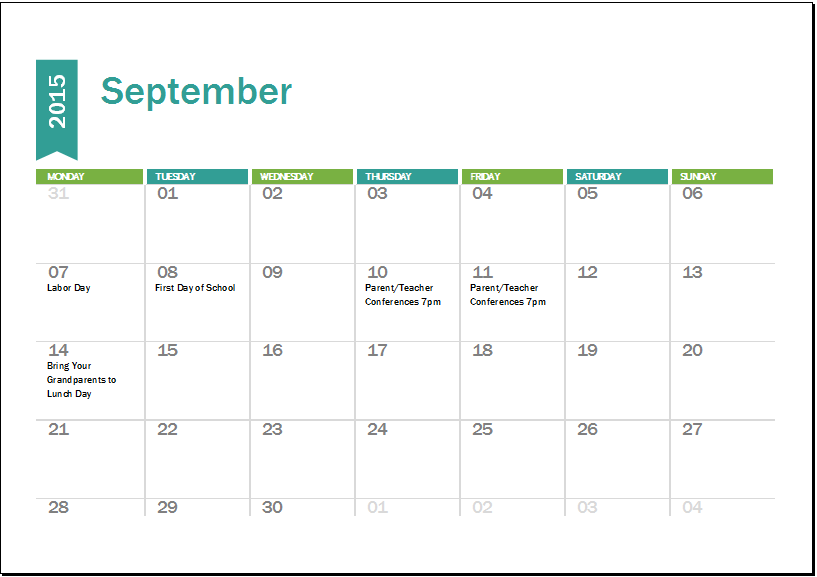 Academic Calendar Template 2015-16
File: Excel (.xls) 2007+ and iPad 
Size 37 Kb   |  Download
File: OpenOffice (.ods) Spreadsheet [Calc]
Size 24 Kb   |  Download